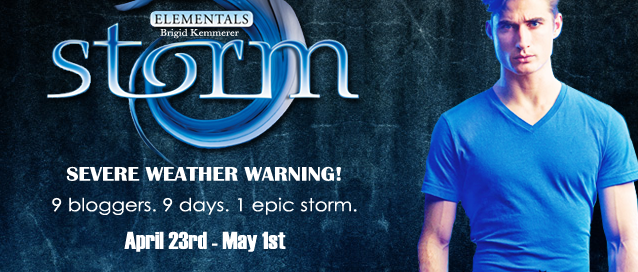 Hello and welcome to the eighth stop of the epic Storm Blog Tour for Brigid Kemmerer's amazing debut. I'm very pleased to be apart of the tour as this book is amazing! You can read my review here. Now before you pull a Fred Flintstone and scurry off to pick up a copy of Storm, I suggest making use of
,

ELEMENTAL

, the short story prequel, which for a limited time is FREE to

download from Amazon

!

But before you go, r
ead on for an interview with the lovely, Chris Merrick! Trust me, you don't want to miss it! ;D
1. First impression of Becca? (mwah)
*blushes* I thought you were going to ask questions about the book.
2. What are your interests? Apart from being so damn fine?
My element is water, but we're supposed to lie low, so Michael won't even let me join the swim team. Luckily we live close to the Chesapeake Bay, so I can walk half a mile to see the water. I like being outside. (A shrug.) In the spring I'll go out for baseball.
3. Who was your first kiss? Good/Bad/Scarred for life
I was twelve. Abby Sorensen did it in the school hallway on the way back from lunch. She'd never said a word to me beforehand. I think someone dared her to do it.
4. What are three things that mean the world to you?
Michael, Gabriel, and Nick. But don't tell them.
5. What do you think of your element, water? Are you ever jealous of your brothers' abilities?
I've never been jealous of them. Water...this is going to sound stupid. (Long pause.) It's like, your element talks to you. It's a part of me. All the elements are connected, so I can sense my brothers' abilities, but wanting something other than water...never.
6. Siblings can be a handful but at the same time you can't live without them. What's something, either a quality or attribute, you love about each of your brothers?
Michael is strong. He keeps us together. Gabriel is fearless. He keeps us safe. Nick's our moral compass. He keeps us from killing each other.
7. If you had to pick a theme song to represent your life, what would it be?
Something Beautiful
by NeedToBreathe
Wednesday 25th April:
Fantasy Casting -
saz101
Friday 27th April:
Keeping up with the Merrick Twins + Review Roundup -
Badass Bookie
Tuesday 1st May:
Guest Post by Brigid: Five Secrets of the Elemental Series -
Amaterasu Reads
Where to find the lovely Brigid and her masterpiece, Storm!
Giveaways!

You can fill out this form for EACH of the blog posts outlined below during the tour. 9 days, 9 bloggers, 9 chances to get extra entries in to win some AMAZING prize packs!!
International Prize Pack 1:
Elemental (ebook) + Storm + Spark preorder
International Prize Pack 2:
Elemental (ebook) + Storm + Spark ARC
International Prize Pack 3:
Storm + Spark preorder
Australian Prize Pack:
Storm ARC + Spark preorder
Australia/New Zealand Prize Packs (10 winners):
1 copy of STORM + 1 STORM book jacket + 1 SPARK book jacket
Thanks to Allen & Unwin and Brigid!!