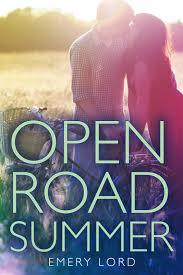 Open Road Summer by Emery Lord
April 15, 2014 · Walker Childres
Source: Library
Format: Hardcover
Page Count: 352
After breaking up with her bad-news boyfriend, Reagan O'Neill is ready to leave her rebellious ways behind. . . and her best friend, country superstar Lilah Montgomery, is nursing a broken heart of her own. Fortunately, Lilah's 24-city tour is about to kick off, offering a perfect opportunity for a girls-only summer of break-up ballads and healing hearts. But when Matt Finch joins the tour as its opening act, his boy-next-door charm proves difficult for Reagan to resist, despite her vow to live a drama-free existence. This summer, Reagan and Lilah will navigate the ups and downs of fame and friendship as they come to see that giving your heart to the right person is always a risk worth taking. A fresh new voice in contemporary romance, Emery Lord's gorgeous writing hits all the right notes.
I added Open Road Summer to my to TBR last year, and since then, have read countless rave, positive reviews. I follow Emery Lord on Twitter, but it wasn't until she tweeted something the other day that finally gave me the kick I needed to run out, grab a copy and read it, pronto. All I can say is that all the love this book has been receiving this year? There's a reason. This book was fan-freaking-tastic. I'm so glad I squeezed it in before the year ended!
Reagan was a breath of fresh air; layered; and definitely unexpected. But I mean that in the best way possible. She was not without her faults and was always ready to push people away, from having her heart broken too many times. She's very real and I loved her as a character. She grew throughout the book, but still has a lot of growing up ahead of her, and I liked that. Some characters do a complete 180 degree turn around and by the end, are basically tied in a bow, with everything neat, fixed and perfect, but that wasn't the case with Reagan. Dee, her best "infinity" friend, was an amazing character as well and I loved getting to know her. Both girls are very different, but make a perfect match as friends. They complement one another well and always have each others backs. All characters, great and small, were written with gusto and depth.
Open Road Summer read like the author had done her research with the fame and celebrity side of things. Touring; the paparazzi; getting noticed wherever you go; the constant fear of getting photographed. It was written in an insider-only voice, as if the author has first hand experience or has been secretly hiding away in Taylor Swifts tour bus. I know 99% of articles and tabloids are fake and only written to sell magazines, but again, it was a reminder of the way they twist words and edit photographs, all to make money.
My favourite aspect of Open Road Summer was without a doubt the friendship between Reigan and Dee. They have such a strong, healthy friendship and I definitely think we need to be seeing more of those on the page. I'm all for a good love interest (see: Matt Finch. Sweet guy + a big heart = swoon!), but considering how important friends are, this book shows me need way more books that showcase not only friendships, but positive ones.
Emery Lord has written one heck of a debut! Not only is it entertaining, it's beautiful and contains depth that the cover doesn't exactly let on to. Lord has a way with words, and has proven that she can write a great story, with all the trimmings (guess I'm getting in the Christmas spirit? Haha). I absolutely can't wait to read her next book!
5/5